At Rocky Branch Baptist Church, we have a simple hope: to see people come to know Jesus and grow in their faith. We began as a church plant of Lake Side Baptist church i2001. Since then, we've been helping spread God's good news not only here in our community but throughout the world! We cheerfully support the Southern Baptist Cooperative Program which enables our missionaries to share Jesus worldwide.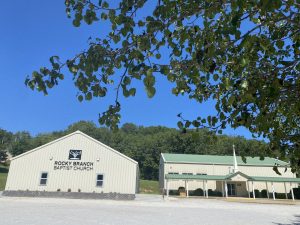 We invite you to join us! Whether you have been attending church regularly, or perhaps you haven't stepped into a worship center in decades, either way you are welcome here! When you walk in for the first time, one of our greeters will be glad to help show you around. They can help you find the nursery, restrooms, Sunday school classrooms and the kitchen so you can enjoy a cup of fresh coffee!
During the service, you'll hear our faith expressed in the songs we sing, the prayers we pray and of course in our pastor's preaching. All parts of our service are grounded in the Bible, which we are committed to upholding. After the service please join us in the Worship Center foyer and give us a chance to introduce ourselves and get to know you a little better. No matter what your Christian background is, or isn't, we hope you'll join us on Sunday. You'll find all kinds of people and we welcome everyone, including you.
Sunday school starts at 9:15 a.m. and our worship services start at and 10:30 a.m. every Sunday.